Rawal Transport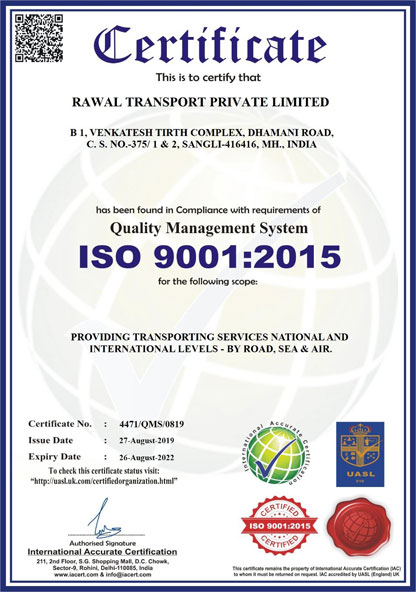 The journey of Rawal Transport started in 1965 with the very low infrastructure in Karad. First, we started with sugar transportation from the sugar factory to Gujarat and Rajasthan.  We gradually expand our services to Gujarat, Rajasthan and more states and cities.
Over the years, As our business grows, We started our new branch in Kolhapur. Today we are having fleet strength of owned vehicles and dedicate them on our defined route. We provide specialized service in transportation. We really knew as one of the best leading transport in Karad, Sangli, Kolhapur, Jodhpur, Jaipur, and Patna.  We are one of the established transport organization in India.  Our manpower is the best and experienced. We have an insurance facility for warehouse and transportation. We never miss or expected delivery date.
History & Philosophy
The Our Transport Management and execution philosophy is:
Create detail scheduled and resources plan client's Loading,
Communicate clearly with all client's stockholder,
Supervise closely on quality of work done,
Taken scheduled Complete and short timely,
We take pride in our delivery, thus our clients can always be assured that only the most experienced and qualified people are serving them, all the time.
COMPANY INFORMATION
RAWAL TRANSPORT PVT. LTD.
Registration No.:  U60300PN2019PTC183307
Incorporation date: 03/04/2019
1 Office Address: Vasantdada Markrt Yard Sangli
Tel: (0233) 2671986 / 2670886
Email: info@rawaltransport.com
PRINCIPALE ACTIVITIES
5229   –    Other transportation support activities
52294 –    Weighing of goods
PAID UP CAPITAL
STRENGTHS AND CAPABILITIES
Rawal Transport Pvt. Ltd. is a professionally managed organization.
Has three decades of proven track record for efficient, dependable, loyal and dedicated services.
Has a strong and a sound financial background and countrywide network with branches located in all important and strategic business locations.
Has a fleet of 10 own trucks and 2500 attached trucks
Consignments tracked by equipment based on Global Positioning System (GPS)
Timely placement of trucks as per customer's requirements.
Feed back on truck movements, Delivery status.
Speed and safe delivery of the consignments
Drivers are provided with mobile phones
Our clients